Customised lifting solution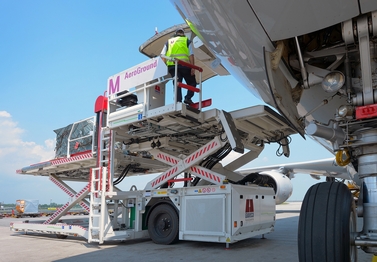 The machine manufacturing company LAWECO from eastern Westphalia uses its plant in Espelkamp to build its globally renowned CARGO MASTER container and pallet loaders, lifting transporters and transporters.
After a successful two-year trial run of the battery-driven container and pallet loader CARGO MASTER LOADER CML 7 - GREEN LINE, LAWECO Maschinen-und Apparatebau GmbH, based in Espelkamp, has received the first orders for machines of the CML7S - GREEN LINE type.
Munich airport, among others, regards the use of electrically driven vehicles such as the CML 7 - GREEN LINE as an important step towards lowering its CO2 emissions. Another important reason for choosing this machine type is that operating and maintenance costs are significantly lower when compared with standard diesel-fuelled handling machines.
The aim of developing this product was to achieve environmental sustainability and cost efficiency for aircraft handling. The CARGO MASTER LOADER CML 7 - GREEN LINE is an important addition to the LAWECO product range of diesel-fuelled CARGO MASTER products and meets the requirements of modern airports that focus on environmental sustainability.
Once a passenger aircraft or air freighter has reached its parking position, container and pallet loaders load and unload its freight. In the standard vehicles previously in use a diesel engine provides the primary drive; hydraulic drives are used for raising the platform and numerous other drive and locking functions. In the CARGO MASTER CML7 GREEN LINE, LAWECO has implemented a new drive concept, for which a diesel engine is not required, decreasing noise levels and exhaust emissions.
The CML7 GREEN LINE is equipped with this entirely new drive concept, which uses two electric motors as its primary unit. These have been well-tried in forklift operation. Each motor is connected to a gear pump, which was also developed especially for use in forklift trucks. These motor-pump combinations have a peak load-bearing capacity, which is completely sufficient for lifting even extremely heavy loads. The electric motors are powered by a lead-acid battery with a capacity of 930 Ah; the on-board charging device makes charging possible in any place.
While well-tested and comparatively simple components from standard machine building are used for the drive, intensive engineering work was required for the control system. All CARGO MASTER handling machines are equipped with CANbus control systems developed by LAWECO. These systems control all movements and functions of the vehicle. Standard industrial hardware is used for them. While earlier vehicles were equipped with hundreds of relays and several kilometres of cables, our modern vehicles have only few terminals and cables. This has helped reduce downtimes caused by malfunctions in the electrical system significantly. The use of modern load-sensing hydraulics in connection with the CANbus control system allows for highly precise handling of the CARGO MASTER. This is a crucial demand made of container and pallet loaders by airport operators.
Although the machine weighs several tons, it must be able to approach the aircraft hull with inch-perfect accuracy without touching it, therefore allowing precise manoeuvring.
The rotational speed of the electric motors is always in accordance with the required output, thus saving energy and increasing the operating life of motors and pumps. In addition, the hydraulic braking effect of the drive is extremely useful. It is triggered in a very controlled manner, as soon as the operator takes his or her foot off the "accelerator", which means that using the brake is not even required in most cases. This minimises the risk of the vehicle coming in contact with the plane at crawl speed due to the operator's carelessness. The lifting and freight transport functions can also be controlled with high accuracy thanks to the valve technology used.
The electro-hydraulic drive has another advantage: The energy released when the load is lowered is not converted into waste heat, but fed back into the battery. With a maximum lifting height of 3.70 m and a load-bearing capacity of up to 7000 kg a considerable amount of energy can be recuperated. This increases the time a CARGO MASTER CML 7 GREEN LINE can be used with just one battery charge.
The first prototype of the new electrical pallet loader was presented at the Inter Airport 2011 and attracted wide interest from airport and air freight companies. After the trade fair, the machine remained at Munich airport for a field trial and was used for handling aircraft such as the Airbus models A300 to A340 and even the Airbus A380.
Together with LAWECO engineers Munich airport analysed the machine's operating costs in detail and found that investing in the Green Line technology pays off within a short time. The efficiency advantages show clearly, even when simply looking at the operating hour meter: The drive running time was reduced by two thirds compared to conventional machines. This is, because the combustion engine of a conventional handling machine runs the entire work day, while the electric motor only uses energy when the drive and operating functions actually require it.
This has a highly positive effect on the machine's energy consumption: The CARGO MASTER with its Green Line drive technology can save its owner up to 7800 litres of diesel a year - and electricity costs are much lower than fuel costs of conventional machines! According to LAWECO's calculations, a Green Line CARGO MASTER saves energy costs of up to 4000 litres of diesel fuel per year, and this calculation was fully confirmed by the field trial in Munich. LAWECO's engineers can show this using an example calculation for any airport company, depending on the length of the routes and the number of aircraft to be handled.
Furthermore, all other operating costs and, above all, maintenance costs are also lowered. Altogether the yearly operating costs of the CARGO MASTER CML 7 Green Line only amount to half (to be precise: 47 %) of the estimated costs of a diesel-fuelled container loader. This calculation does not only take into account that there is no longer any need for diesel engine maintenance, but also accounts for the fact that hydraulic oil does not age as quickly with this technology and therefore does not need to be changed as frequently. This reduces hydraulic oil requirements by 2000 litres in 10 years!
For technical questions please contact our product manager Mr. Guido Weißbrich,
Phone +49 5772 202-144 or by e-mail gweissbrich@laweco.de
Please visit our web page under www.laweco.de for further information.
LAWECO Maschinen- und Apparatebau GmbH
In der Tütenbeke 23
D-32339 Espelkamp