Customised lifting solution
LAWECO at VW in Poznan - a report from the field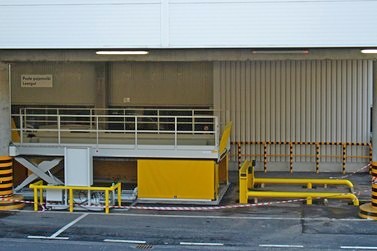 Volkswagen in Poznan asked us to find a lift platform solution for loading goods safely and efficiently at ground level. LAWECO installed the lift platform without the need for any earthwork or pit work, giving VW increased flexibility and ease of operation.
Demands on lift platforms have continuously increased, particularly with regard to special applications. In addition to the length, width, height and load bearing capacity, other requirements such as availability, speed, accuracy, functionality and other special features are now just as important. As the leading European manufacturer of individual lifting solutions, LAWECO combines proven quality with creative innovation – tailored to the customer's requirements right down to the last detail.

Special requirements call for special solutions
An example of this is the ambitious lift platform project that LAWECO realised on schedule for the Volkswagen factory in Poznan at the turn of the year. The challenge was to achieve a surface-mounted solution with a max. 90 mm high loading platform. LAWECO came up with a particularly user-friendly solution that sets standards in safety and flexibility.
The lifting scissors are fitted next to the load platform to make it easy for the customer to push his carts onto the lift platform. An electro-hydraulically actuated dock board with a length of 1.2 metres minimises the effort required for pushing the carts onto the platform, and serves as a ramp when lowered, making it "child's play" for VW to roll the goods to yard level.
Once the scissor lift platform has been loaded, the dock board is raised using the control button and acts as an anti-fall guard in accordance with the valid European standard DIN EN 1570-1:2011. This saves time as it is not necessary to close doors or fit guard rails. Another dock board bridges the transition to the lorry. The elevated areas of the scissor units can be secured by railings and used as a walkway.
LAWECO also supplied the matching loading dock protection equipment. The scope of delivery also includes guides and dock bumpers for the delivery lorries, and collision protection guards and railing elements for outside installation.
Surface-mounted installation offers ergonomic and practical advantages. The lift platform does not require a pit and can be easily and economically relocated if requirements change. Such lifting equipment can be retrofitted inside buildings, provided the structural requirements are fulfilled, without having to make a hole in the floor/ceiling.

At LAWECO we take pride in meeting our customer's requirements down to the last detail.
For technical questions please contact our project engineer Mr. Frank Schiller,
Phone +49 5772-202-136 or by e-mail fschiller@laweco.de
Please visit our web page under www.laweco.de for further information.
LAWECO Maschinen- und Apparatebau GmbH
In der Tütenbeke 23
D-32339 Espelkamp