Trade fair presence at the Euroblech 2014

LAWECO Impresses with Strong Growth in the Sheet Metal Sector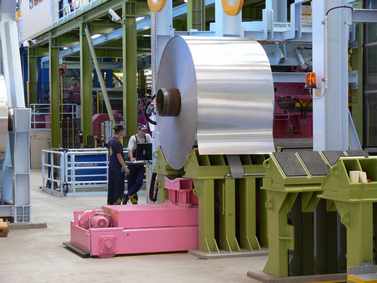 Responding to special market requirements has always been one of LAWECO's strengths. Demand from the sheet metal processing industry has seen extraordinary growth. Europe's leading manufacturer of custom lifting solutions will, therefore, be a strong presence again this year at the Euroblech trade fair in Hanover - and is looking forward to a great number of enquiries and impulses from the industry.
The lifting system experts from Espelkamp are reporting above-average growth in the segment of sheet metal processing companies in the current fiscal year. Most notably, the orders received for circuit board lifting tables for press lines and coil loaders have increased dramatically. LAWECO benefits, in this respect, from the current investments and modernisation in the automotive industry. "There is considerable movement going on, even among their suppliers," emphasises LAWECO Project Manager André Küchhold.
The focus is increasingly on special solutions. "Our customers want high quality and customer-specific solutions, coupled with solid technical support for the duration of the project management", he adds.
LAWECO significantly increased its production capacities with the building of a new production hall, and by increasing the staff to over 120 employees. In this way, LAWECO is responding to the new requirements of its regular customers, who are requesting an increased range of system solutions including the entire electrical installation.
For technical questions please contact our project engineer Mr. André Küchhold,
Phone +49 5772-202-135 or by e-mail akuechhold@laweco.de
Please visit our web page under www.laweco.de for further information.
LAWECO Maschinen- und Apparatebau GmbH
In der Tütenbeke 23
D-32339 Espelkamp