Product innovation from LAWECO:
Loading bridge with adjustable width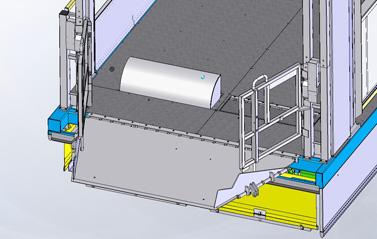 LAWECO Maschinen- und Apparatebau GmbH has added an exceptionally versatile loading bridge to its extensive portfolio of high-performance, quality lifting systems. The hydraulic loading bridge with width adjustment is specifically designed for bridging gaps, and offers customers increased ease of use for loading applications. The new loading bridge for loading lift platforms fully lives up to the company's motto "In good hands".
Loading bridges for heavy goods vehicles should be approx. 2 meters wide to allow optimum loading. The recommended width of loading bridges for transit vans or cars is approx. 1.6 metres. LAWECO has designed a dock board that can be automatically adjusted to allow loading lift platforms to be individually adapted to accommodate a large range of different transport vehicles. The dock board can be adjusted via a selector switch to the desired width while the loading bridge is being lowered – without the need for any time-consuming make-ready or conversion work.
Loading bridges provide a smooth transition between the lift platform and the bed of the vehicle for loading and unloading goods on wheels. Hydraulic loading bridges are particularly suited to high volume loading applications or wherever the loading bridges are simply too heavy for manual operation. Long loading bridges are used when the lift platforms are located inside the building and it is necessary to span the gap between the lift platform and vehicle bed (i.e. the entire length encompassing the depth of the building wall, the sectional door and the dock bumpers).
LAWECO has equipped the hydraulic loading bridges with additional high-performance functions. The system can be equipped with gates that act as lateral guards to protect against falls when open. The loading bridge version with width adjustment can be equipped with gates that can be automatically adjusted to the narrower shape. The hydraulic loading bridge also features a height adjustment function as standard: The lifting height of the lift platform – with the loading bridge in place – can be adjusted to the bed height of a heavy goods vehicle at the push of a button.
Bespoke lifting systems are the norm for the highly specialised and experienced team at LAWECO Maschinen- und Apparatebau GmbH. The family owned company produces scissor lift platforms for the area of automated manufacturing, as well as lift platforms for loading and unloading heavy goods vehicles.
For technical questions please contact our project engineer Mr. Frank Schiller,
Phone +49 5772-202-136 or by e-mail fschiller@laweco.de
Please visit our web page under www.laweco.de for further information.
LAWECO Maschinen- und Apparatebau GmbH
In der Tütenbeke 23
D-32339 Espelkamp