Ideal for high numbers of cycles:
LAWECO Belt Lifting Table Belt-Line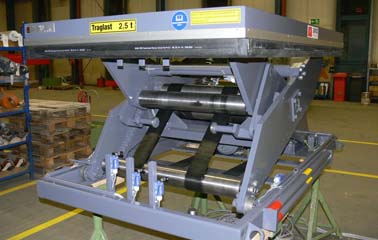 Extraordinary challenges need special solutions.
The new LAWECO belt lift table "Belt-Line", as a mechanical scissor lift table in a class of its own, is also suitable for performing lifting work in sensitive areas and stands out for maximum reliability, precision and cost-efficiency.
One of the leading European manufacturers of individual lifting systems has developed a lift table with patented prestroke rollers, based on state-of-the-art lift table technology.
This new member of the high-performance LAWECO family is particularly designed for applications requiring a high number of lifting and lowering cycles, especially for lower weight loads of a few 100 kg to 2.5 tonnes. The lifting system specialists from Espelkamp are committed to providing customised solutions. Therefore the belt lift table can be optionally equipped with safety contact rails, bellows and screwed-on bearing bolts. Like its predecessors, the new LAWECO belt lifting table "Belt-line" stands out for maximum safety and minimum maintenance.
The robust and durable lifting table technology that does completely without hydraulic oil offers convincing advantages. LAWECO pays particular attention to quality during product development. The belt lift table is virtually maintenance-free; the low-wear components, as well as the drive unit, can be quickly replaced, as required, for example, for 3-shift operation in the car industry.
Moreover, the lift table is as precise as Swiss clockwork.
The engineers and designers have given priority to high positioning accuracy, excellent load change behaviour and a harmonious movement sequence. Additional benefits: High lifting speed with low noise level and the patented safety catch system in accordance with DIN EN 1570. Users of the new LAWECO belt lift table will benefit from optimised energy efficiency as a result of energy recovery during the lowering process.
This new mechanical lift table is a valuable addition to LAWECO's portfolio of high-performance lifting systems that also make light work of extraordinary challenges.
For technical questions please contact our project engineer Mr. Frank Schiller,
Phone +49 5772-202-136 or by e-mail fschiller@laweco.de
Please visit our web page under www.laweco.de for further information.
LAWECO Maschinen- und Apparatebau GmbH
In der Tütenbeke 23
D-32339 Espelkamp